Animal Squat is a radical book for children.
I say "for children" with a bit of hesitation, because I don't like to set age boundaries. Maybe a better definition would be an illustrated book with a small amount of text, which makes it easier to read. I say "radical" because it deals with squatting – property relations and the law.
It's about a bunch of animals who decide to escape from their cages and their masters, and squat an abandoned factory. Simple as that. We all know that the proportion of empty properties and the number of homeless and struggling people is frightening, but today squatting is harder and less socially accepted than ever. I wanted to tell this simple story of re-appropriation of space, in my way.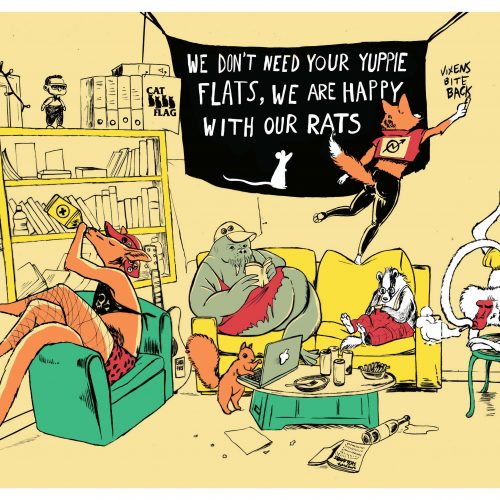 I always liked humanised animals as characters in children's books – it's a classic story-telling form. Just recently I saw the animation movie PETS. The film is all about how good it is to have masters. The enemies are the stray animals, who are shown as crazy, deviant, but also as individuals refused by society that are actually longing to be cuddled and (ruled over) by humans. It looked like the exact opposite of Animal Squat.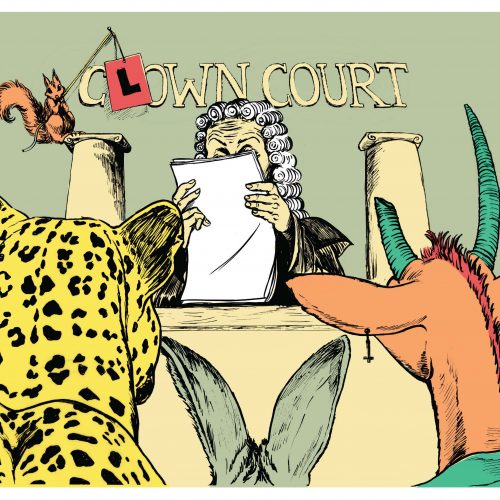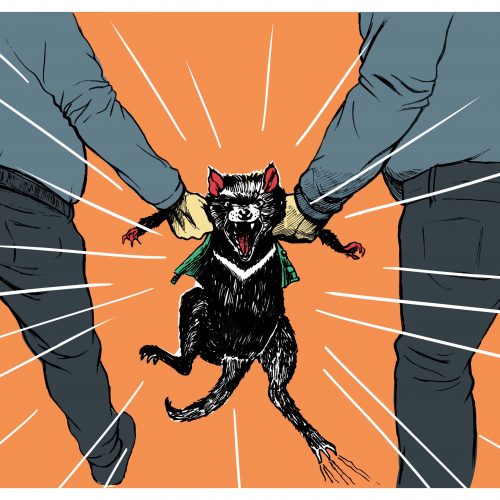 In my book the animals refuse the rules of an unfair society and take their lives in their own paws. Animals become the metaphor for liberated people, while the institutions that carry out their ruthless procedures are represented by faceless humans.
I was squatting at the time I wrote it. It was hard because it required enormous adaptation skills, moving continuously from the loud playful chaos of our nests to the automatic cold violence of the outside world. Then there's the fact that even though we were safe in a bubble of freedom of our own making, we were still dependent on the outside world; no matter how many barricades we built it always found a way to get in.
Since the law changed in 2012, squatting residential property has become a criminal offence in the UK. Though squatters are still taking over non-residential buildings, it's much harder to put a roof over your head for more than about a month; but, as is said at the end of the book: wild animals are tenacious and don't give up!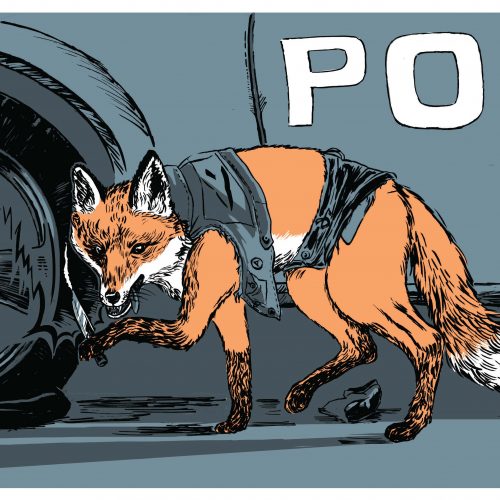 Double Why is the author and illustrator of Animal Squat.
Dog Section Press also have another title about squatting, which is a collection of responses to the Ministry of Justice's consultation about the criminalisation of trespass in residential buildings (squatting).
They also have several titles about subvertising – the art of hacking ad-spaces (Advertising Shits on your Head, Subvertising, Brandalism, and ACAB). They have just released a short documentary on the subject, which includes legal opinion from Lydia Dagostino of Kellys Solicitors.