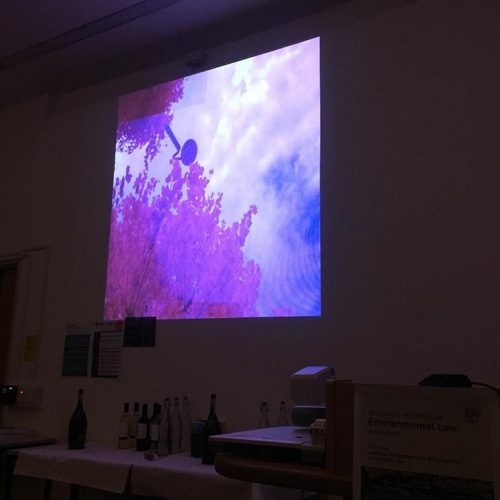 by Dr Victoria Brooks, Lecturer in Law, University of Westminster
On 17 May, Research Methods in Environmental Law, edited by Andreas Philippopoulos-Mihalopoulos and Victoria Brooks, was officially launched at the University of Westminster.  The event took place in a small lecture theatre, with some wonderful quick-fire and occasionally dramatic contributions from some of the authors from the volume.
Andreas opened the occasion with his recollection of the editors' motivation for the project, which was to bring together voices for critical and radical ways of doing and thinking environmental law,  both in research and teaching. Andreas Kotsakis then gave a rallying call to environmental scholars to be as radical as they can be, followed by Bettina Lange who talked about the necessity to read environmental law in an unconventional way, both doctrinally and beyond that, between the lines of theoretical exploration. Lucy Finchett-Maddock then reminded us of the necessity for chaotic methodologies when moving from theory to action, through her 'speculative entropy'.
By now it was clear that an overriding theme of the collection was emerging across the launch speakers – about questioning the space between theory and action and how to do justice to the diversity of bodies that seek protection from environmental law in the demanding age that is the Anthropocene.
Inger-Johanne Sand then reminded us through a moving tale of what is at stake in questioning the space between thinking and doing, of the real epochal impact of the era environmentally and legally, and the need for inventive ways of communicating the urgency of the task of law. A brief meditative interlude followed with Mirko Nicholic's beautiful and light-as-air video artwork, bringing to the room the needs and disruptive forces of microscopic, multi-species, more-than-human bodies. Danilo Mandic then followed with an inventive and striking piece sounding-out the environment as a provocation to listen to the world.
Victoria closed the event with a final word on fucking ethics and that we should all fuck off and drink magnums of prosecco – which we did, together with our guests! The launch was as radical as the collection and the editors thank all the speakers for their contributions which made the event a pure celebration, and to all the contributors who could not be at the launch, for their wonderful work.
'Research Methods in Environmental Law: A Handbook' (Handbooks of Research Methods in Law Series) (Edward Elgar Publishing) – Edited by Andreas Philippopoulos-Mihalopoulos, Professor of Law and Theory, Director of the Westminster Law & Theory Lab and Victoria Brooks, Lecturer in Law, Westminster Law School, University of Westminster, UK, is available in hardcover, from the publisher:
"This timely Handbook brings innovative, free-thinking and radical approaches to research methods in environmental law. With a comprehensive approach it brings together key concepts such as sustainability, climate change, activism, education and Actor-Network Theory. It considers how the Anthropocene subjects environmental law to critique, and to the needs of the variety of bodies, human and non-human, that require its protection. This much-needed book provides a theoretically informed analysis of methodological approaches in the discipline, such as constitutional analysis, rights-based approaches, spatial/geographical analysis, immersive methodologies and autoethnography, which will aid in the practical critique and re-imagining of Environmental Law." (Edward Elgar Publishing, 2017)