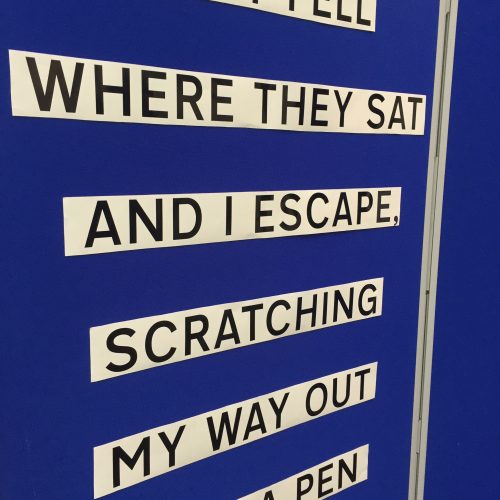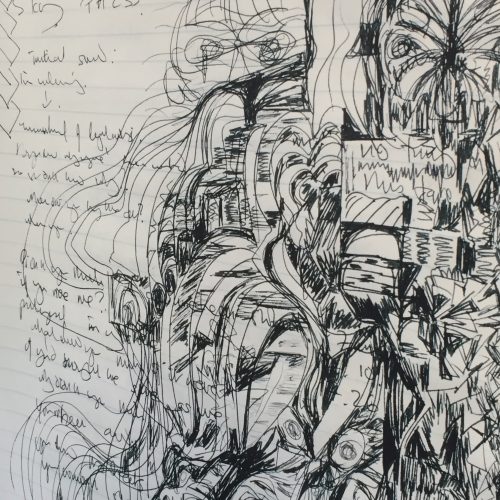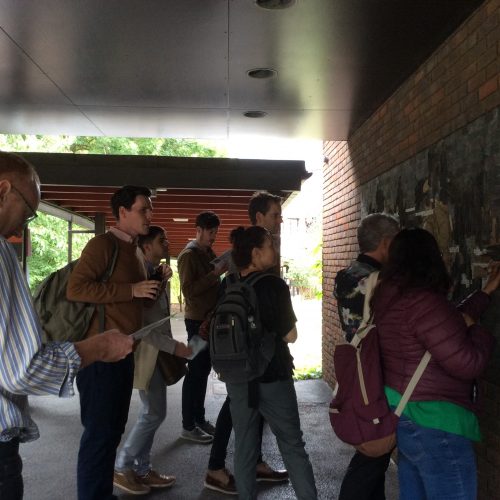 From 6-8 September we were delighted to host our first (and hopefully not last!) fantastic Art/Law Stream at the Critical Legal Conference, this year hosted by the Open University Law School, Milton Keynes.
We had some brilliant interventions on the art/law/aesthetics/politics intersection, from scoping legal objects and artefacts with Swastee Ranjan and Mothiur Rahman, where Mothiur introduced everyone to the famous Milton Keynes 'concrete cows'; a very relaxed, informative and slightly comedic tour of the OU's sculpture led by Sean Mulcahy; complex and scintillating histories of capital, forms of advertising, intellectual property and resistance with Adat Rosenberg, Jeremy Pilcher and Danilo Mandic; unravelling the visual and witnessing in law with Dorota Gozdecka and Sophie Doherty; discussions of legal musicality, legal research and creativity and art/law with Sean Mulcahy, Chris Dent and Lucy Finchett-Maddock; and most poignantly the wonderful installation and inspiring talk on her practice with artist and lawyer Jane Hinde.
A productive and fun few days we had, here are to more!  Have a look at here for the full list of abstracts and hope you enjoy the wonderful photos of Jane's work, as well as some of the talks.
Thanks to all those who participated and to the stream organisers Sean Mulcahy and Lucy Finchett-Maddock.
Please see also our archive of Tweets!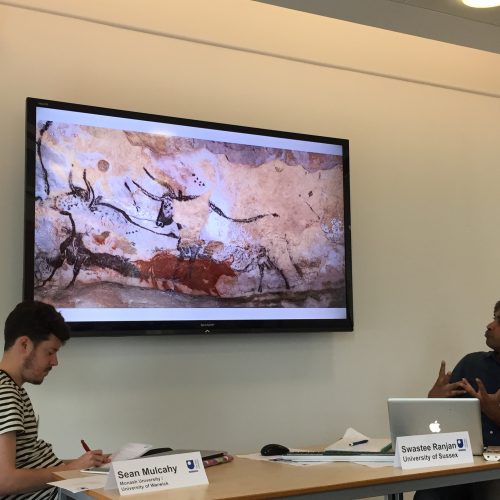 Photos from As they fell, I scratched my way out with a pen (Installation) – Jane Hinde, Artist and Lawyer: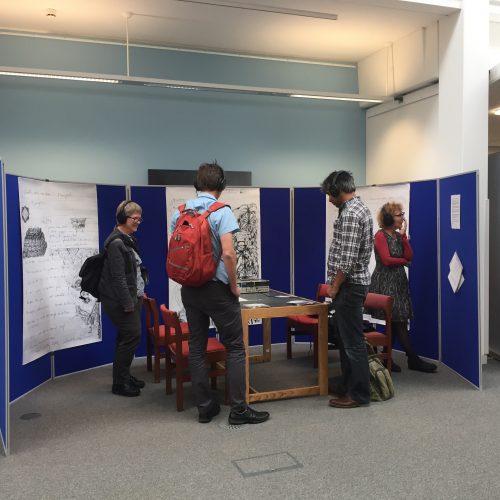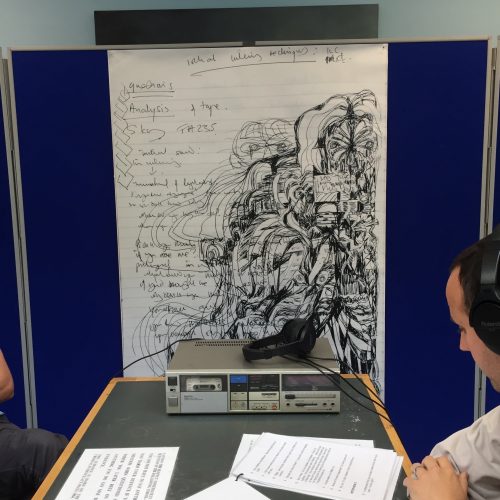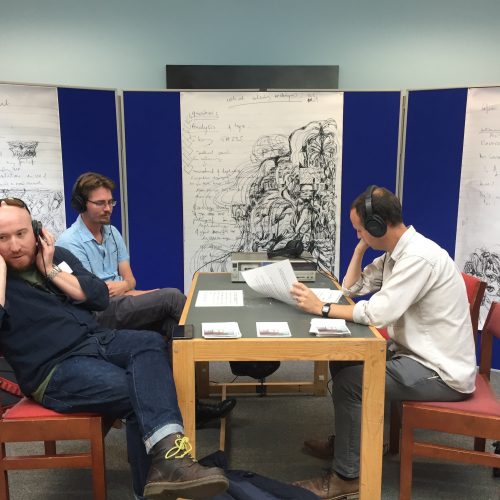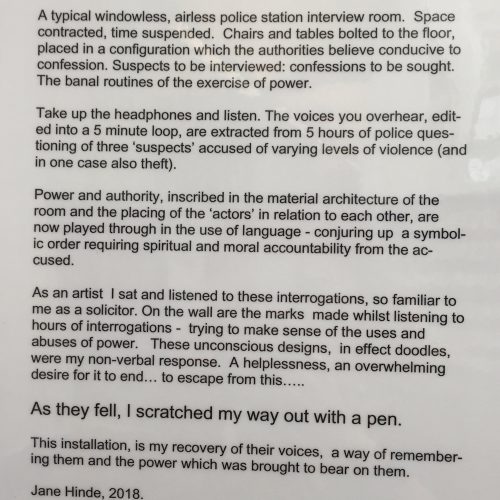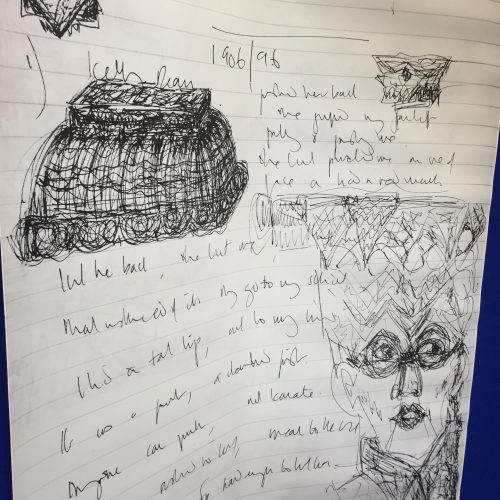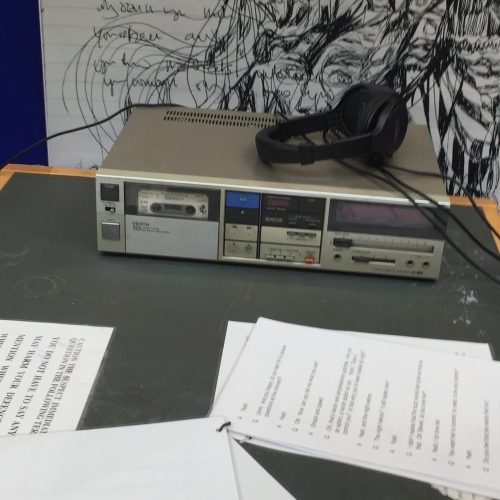 CLC 2018 Art/Law Stream Schedule
Thursday
Panel 1 – Material Law
Chair: Sean Mulcahy
Well-Ventilated Utopias: The Architecture of International Legal Organisations 1922 – 1952
Miriam Bak McKenna, Lund University
Law and Aesthetics of MaterialObjects – The Plural role of Matter and Affect
Swastee Ranjan, University of Sussex
Milton Keynes & Liz Leyh's Concrete Cows: Law as Artefact and Cows as Agents of Change
Mothiur Rahman, New Economy Law & Art/Law Network
Session 2 – Sculpture Walk
A viewing of the Open University outdoor art collection
Panel 3 – Performing Capital 
Chair: Lucy Finchett-Maddock
Un-Doing Law – Public Art as Contest Over Meanings
Petr Agha, Institute of State and Law, Czech Academy of Sciences Charles University
'The meat extract is entitled to plead artistic licence': Advertising, Art and Law(s)
Anat Rosenberg, Interdisciplinary Center (IDC) Herzliya
Art, the Law, and Unstable Corporate Identities
Jeremy Pilcher, Birkbeck College
Friday
Panel 3 – Visual Boundaries
Chair:   Swastee Ranjan
Visualising Justice: Sexual Violence, Law and Art
Sophie Doherty, Durham University
The Hierarchy of Innocence and Images of Migrant Children
Dorota Anna Gozdecka, University of Helsinki
Depth, waiting and the threshold: immigration detention in law and film
Emma Patchett, University of Helsinki
Panel 4 – Art/Law
Chair:   Jeremy Pilcher
Legal Research as Acts of (Reactionary) Creativity
Chris Dent, Murdoch University
A Theory of Art/Law
Lucy Finchett-Maddock, University of Sussex
Singing the Law: On Musical Legal Performance
Sean Mulcahy, University of Warwick & Monash University
Session 5 – Art/Law in Practice
Chair:   Lucy Finchett-Maddock & Sean Mulcahy
As they fell, I scratched my way out with a pen (Installation)
Jane Hinde, Artist and Lawyer
Saturday
Panel 6 – Art, Norm, Colonisation
Chair:   Mothiur Rahman
Anxious and Ambivalent: Art, Law and the Legacies of Slavery and Caribbean Relations
Anne Bottomley, Kent University
Evading Innocence: Embodied Queer Performance and Section 377 of the Indian Penal Code
Tara Atlari, Srishti Institute of Art, Design, and Technology
When Concepts Become Norm: Copyright Law through Conceptual Art
Danilo Mandic, University of Westminster