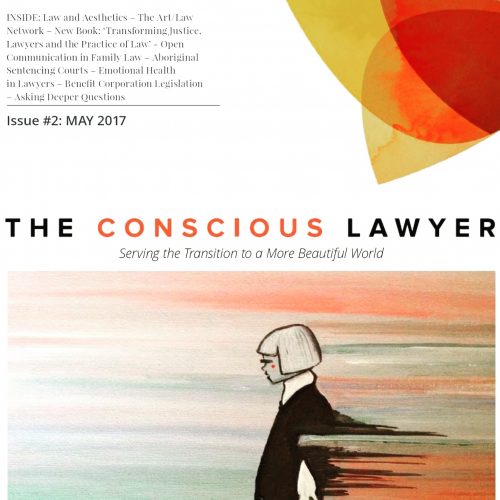 Art/Law Network By Lucy Finchett-Maddock
The Conscious Lawyer 2 2017 10-12
The Art/Law Network is a gathering of artists, lawyers, agitators, coming together to work and collaborate for change.  Never before has there been such a call for social transformation, where individuals, practitioners, artists and activists of all backgrounds are seeking new and alternative ways of fostering fresh thinking, fresh politics, and fresh law.  Creative and legal projects up and down the UK and beyond are filling the gap left by ideological strategy and austerity-starved state provisions, such as Brighton-based Hummingbird Project who took art therapy to the Calais jungle and are pursuing the protection of the rights of young migrants in the UK, or clinical legal projects across Law School campuses providing free legal advice where government funded legal aid no longer exists.
The Art/Law Network seeks to bring these two creative and legal responses together, where lawyers can connect with artists and vice versa, to accomplish social and legal transformation, connected through innovative law-led art, and art-led law.
What does this mean exactly?  Law-led art involves artists engaging in juridical themes, such as the consistently incisive work of Carey Young on the distinct spatial and temporal reality of law, bringing rights, responsibilities, power, to the fore through her commanding deployment of legal relations[1].  Or similarly, the important work of artist, agitator and member of the network Adelita-Husni-Bey questioning the role of democratic law-making processes and property in housing and protest through her art/law intervention 'Convention on the Use of Space'.
Artists hold a unique place within culture where they can transmit and transmute the political, their art providing a space of advocacy and learning, orchestrating a performative meeting point for the happening of law and politics.  Members of the Art/Law Network sound and visual arts collective 'Distant Animals' undertook this motif through UNION, a participatory exhibition of real world responses to the EU referendum.  It sought an impartial exploration of the issues surrounding the referendum by presenting the law, devoid of media and rhetoric, in a hanging space in the Synergy Centre, Brighton.  Here artists and academics worked together to create a law-led arts piece that interrogated and challenged politics through art and law; it is an example of the work of the Art/Law Network in its task of promoting collaboration between lawyers, artists, activists and agitators of all kinds.
Similarly, lawyers occupy a similarly unique position within culture and society, where their work is not confined to wealthy city commerce but are the original privy for advice, counsel, rights protection, advocacy – they are the voice for the subaltern.  In this guise, the Art/Law Network seeks to alter traditional forms of legal pedagogy through inviting art into law in a critical art-led law practice where a culture of empathy for the Other can be fostered in the class room by critically demonstrating the divisive and often violent role of law in forces of social exclusion.  An example of this is using the 'cut-up' literary technique on the Law of Property Act 1925 where an alternate understanding of property can be created for the student by literally cutting up pieces of the legislation and forms of estates and interests to create new ones through the reordering of words and meaning; as a result they are able to see the role of words and interpretation in the creation of forms of property, legislature, judicial reasoning, as well we their part in exclusion, inequality and capitalism.  Legal academics and members of the network have been using arts practices to critically dissect law in their teaching for some time, such as Andreas Philippopoulos-Mihalopoulos' 'walking with the law' exercise with students to understand the pervasive role of law in the built environment, and Isabel Granados' 'warm law' pedagogy that seeks to institute a law in tune with the environment through philosophically instructing a next generation of 'warm' lawyers through understanding law as a form of 'social sculpture'.
The Art/Law Network is growing and committed to the task of bringing art to law and law to art, in whatever philosophical, practical and artistic medium that may be.  It is currently in the process of organising a series of speculative design workshops where designers work with lawyers in the creation of legal objects that may offer new conceptions of legal pedagogy, lawyering and ultimately, juridical frameworks.
The network offers a platform where artists can be in contact and collaborate with practitioners working within the law, the legal system, legal teaching and research. It provides a space where lawyers, activists, academics, thinkers of all creeds, can learn new open forms of law and legal thinking through bringing art into law.
Participants in the Art/Law Network are Collaborators.
Projects between Collaborators of the Art/Law Network are Convergences.
Contact info@artlawnetwork.org for more information on the network, collaborating and future convergence opportunities.  Keep up to date on Twitter with @ArtLawNetwork and the website for events, www.artlawnetwork.org.
[1] Carey Young's work is her own and the Art/Law Network has not been involved in her art, but is used as an example of law-led arts.