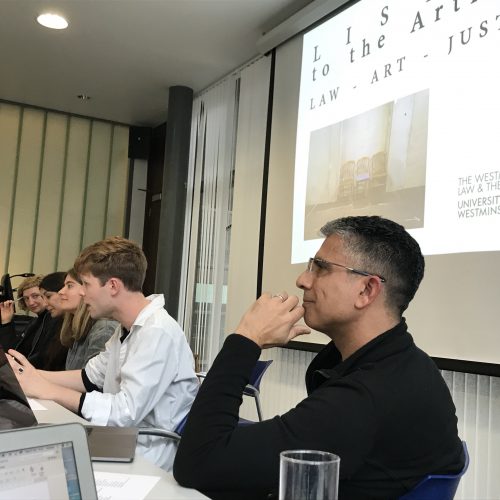 Listen to the Artists! A workshop on the connection between art and law from the perspective of the artists by Andreas Philippopoulos-Mihalopoulos
Organised by the Westminster Law & Theory Lab, University of Westminster
6thof February, 2019
Legal academics often have fixed ideas about art and art practices. These tend towards the idealisation of art practice, a certain naïve or romanticised idea of what art is, an over-emphasising of artistic freedom, a harking after some sense of aesthetic beauty, and so on. These might to some extent be true – but only to some extent. This is the reason for which we at the Westminster Law & Theory Lab decided to organise a workshop where practicing artists would be invited to take the floor and engage with questions about their practice, their connection or not to the law, their understanding of justice, but also more generally their connection to academic thought, their need (or not) for theorisation, and the challenges of their daily practice.
Listen to the Artists! took place on the 6thof February 2019 in the Pavilion of the University of Westminster. It was a day-long event with several panels and activities throughout the day. The invited artists' connection to the law and legal thinking are varied: some explicitly working with the law in their art practice; some engaging with issues of justice through political activism; others working on developments that take place in legal theory and incorporating them in their practice. The day was a testament to law's polyvalence and a conscious attempt to move away from the traditional understanding of law as textual and abstract, top-down, state monopoly that seems to permeate a large spectrum of legal thinking, from doctrinal and positivist to even some critical and sociolegal research. Instead, the day tried to tease out the material aspect of the law by focusing on objects and practices, rituals and techniques that, rather than merely representing the law, actually constitutethe law. This means, however, that law needs to be thought of as a daily occurrence, a banal instance of emergence, and an integral aspect of the lawscape where law is simply tautologous with matter.
The main structure of the workshop was discursive rather than presentation-based, with three panels in which the artists were responding to questions from the panel discussants, other artists and the audience. The first panel, law and art theorist Connal Parsley engaged artists Helene Kazan and Eva Sajowic in a discussion on questions of responsibility, discipline, home and artistic as opposed (?) to court justice. The second panel was a larger roundtable put together by artist Julius Colwyn who threw fast-paced and rather hard questions to artists Manca Bajec, Margareta Kern, Nayan Kulkarni, Negin Vaziri and Nicole Zilberszac, with an emphasis on objects and practices as meaning mediators both in art and law, as well as affective practices that involve the audience or the subject of the art in activist or otherwise active engagement with current issues. The third panel of the day was a discussion between Andreas Philippopoulos-Mihalopoulos, Susan Schuppli and Carey Young on issues of artists' responsibility and visibility, questions of the nature of law as symbolic and material at the same time, and the actual limits of artistic freedom. The panels were accompanied by Merima Bruncevic's Law, Art and the Commonsbook launch with Danilo Mandic and Lucy Finchett-Maddock, a presentation on surfaces by Sabina Andron, and an installation by Jane Hinde.
Perhaps some of the most interesting issues that emerged from the discussions and the whole day revolved around thinking about both art and law as practices, ways of thinking and being rather than distinct disciplines whose boundaries need to be maintained at all costs. Art and law are both ways of embodying, spatialising and materialising one's engagement with the world at large, whether interior or exterior (if one insists on such differentiation), whose limits and freedom are determined by the project in hand. There is no such thing as artistic freedom versus legal or even academic discipline, nor higher or lower responsibility depending on whether one is a legal thinker or an artist. Again, this is determined by the project in hand, which remains open and continuous (just as the project of justice would be for a legal academic, and the project of personal expression would be for an artist), without easy endings and final conclusions. The vast majority of the people who participated in the event, whether as organisers, participants or audience were straddling art and law as practitioners of both, whether in interconnected practices or insisting on keeping them separate. As a result, they were uninterested in definitions and subsequent divisions between art and law, carrying on instead the dialogue of the commonality of practices in a world where everyone is required to take on their share of responsibility for our predicament.