Events
The Art/Law Network is hosting a social event, with collaborative conversations and the showcasing of member Adelita Husni-Bey's recent work 'Chiron' (2018).
The first part we will be screening Adelita's Husni-Bey's work (18 mins), followed by a discussion of the film with the artist.
Then we will get into break out rooms where participants will creatively ponder collaborations on the following:
These themes are all to be included as part of the our Online Seminar Series 'HOMEing: Beyond 2020'.
We will come back and share our ideas, and conclude with a brief discussion of member's aspirations for the network. Please fill in this form beforehand if you would like to send us your thoughts on what the network can do for artists, lawyers and activists, prior to the event.
Please access tickets here.
Look forward to seeing you there!
ALN xo
__________________________________________________________________________
Breakout Room Themes
Race and Public Space (with Jeremy Pilcher, Mothiur Rahman, Oğulcan Ekiz and Lucy Finchett-Maddock)
A group discussion within the breakout room to explore the connections between public space and racial heritage, and how the reclamation of public space can bring about new forms of justice, belonging and social change. The aim of today the social session is to discuss ways of engaging with the UK government's perceived need to, "defend our culture and history from the noisy minority of activists constantly trying to do Britain down."
Migrants in Art (with Lucy Finchett-Maddock, Lizzy Willmington and Charlie Blake)
The ongoing pandemic has demonstrated the fragility of the cultural sector with its already historically white heteronormative, ableist structures compounding the difficulties faced by black cultural workers, those of colour, and of migrant status. We have repeatedly seen continued English Channel crossings that have been made by those fleeing collapse and persecution where the migrant is washed up, detained and forgotten. Very often migrants are depicted as subjects rather than makers, no more presciently than in the bringing of the wrecked shipwreck where upto 1,100 people perished, as a piece of art to the Venice Biennale in 2018 by Swiss-Icelandic artist Christoph Büchel. This breakout group invites participants to explore and challenge juridical and cultural assumptions around the migrant in art and migrant artists' rights, providing a prompt for future collaboration and discussion on art and migration, the role of law, and forms of relief through art and law for refugees and asylum seekers.
Art and the Border (with Sophie Doherty, Lizzy Willmington and Sean Mulcahy)
In this breakout room, we will have an introductory networking session, and discuss the upcoming 'Art, Law and Borders' series. While the world has slowed down during the year long pandemic, border regimes across the globe have intensified; from the threat of insurgency on the border in Ireland, accelerated deportations of people who crossed the Channel before Britain departed from EU border regulations, to the continued offshore detention prisons on Nauru, and 24hour isolation of people in prison during the pandemic. Borders attach to people deemed out of place through the racist and colonial logics embedded in them. Art – in its broadest sense – is an important site of resistance to the borders' violence. It is an opportunity to destabilise settled logics of inclusion and exclusion, of enabled and disabled mobilities, of invisible and hyper-visible others. Through a conversation between art and law, this series seeks to interrogate borders that are simultaneously settled and contested.
Precarity and Environment (with Mothiur Rahman, Swastee Ranjan and Charlie Blake)
How do we the public make sense of the Climate and Ecological Emergency: through what we say to ourselves individually in our own minds, with each other through acts of conversation, and with each other in our public lives through 'acts' of Parliament? In the ALN Social we will co-create a participatory experience with you and with the law as our object of investigation and enactment, to explore some of these dynamics of law making and precarity. We will play with the meaning of 'parliamentary motions', breaking down the performance by which our laws are made to better understand whether our 'legal home' is fit for purpose.
__________________________________________________________________________
Chiron (2018) Adelita Husni-Bey
Installation, single channel 4K video 18:13 min and 26 translucent banners, 119×460 cm
Chiron follows a group of immigration lawyers from UnLocal – an organisation offering pro-bono legal defense to persons facing deportation in New York – as they pilot a series of movement and discursive exercises devised during a workshop. The exercises have been designed to question their position as both instruments and actors of an unjust legal system in which they have to perform. In the work the lawyers disclose the suffering inherent in operating within such a paradox, using the metaphor of liquid to disclose how the experience of injustice inflicted on their clients spills out of the confines of the self and cannot be neatly contained, individualised or forgotten. The lawyers highlight the different ways in which the juridical burdens brown and white subjects, discussing the racist genealogies of immigration law, while finding experimental forms of collective healing and bearing each other's weight.
The results of this process are 'A Lawyer's Handbook', a booklet featuring the exercises piloted with UnLocal and distributed to other US organisations working withing the field of legal aid and Chiron – a video installation.
The workshop was initially commissioned by UnLocal in 2017 and produced on the occasion of the 2019 solo show at the New Museum, bearing the same title. The video installation is complemented by 26 semi-transparent banners emblazoned with excerpts of immigration acts dating from the 1880s to 2017.
Adelita Husni-Bey is an artist and pedagogue interested in anarco-collectivism, theatre, law and urban studies. She organises workshops, produces publications, radio broadcasts, archives and exhibition work focused on using non-competitive pedagogical models through the framework of contemporary art.
__________________________________________________________________________
Art/Law Network is a collective of artists, lawyers, and agitators, of all creeds, collaborating for change. Find us at www.artlawnetwork.org, Twitter, as well as on Facebook and Instagram.
__________________________________________________________________________
Inclusivity Statement
Art/Law Network believes in a respectful shared space. We believe it is a collective responsibility to create and nurture this space for everyone, both offline and online. We will be prepared to request members and participants in network events to challenge their assumptions and engrained oppressive behaviours. We will introduce our code of conduct at the beginning of live sessions, in person or online, as well as part of any commissioned publications. If you have any questions, please get in touch with us at info@artlawnetwork.org.
__________________________________________________________________________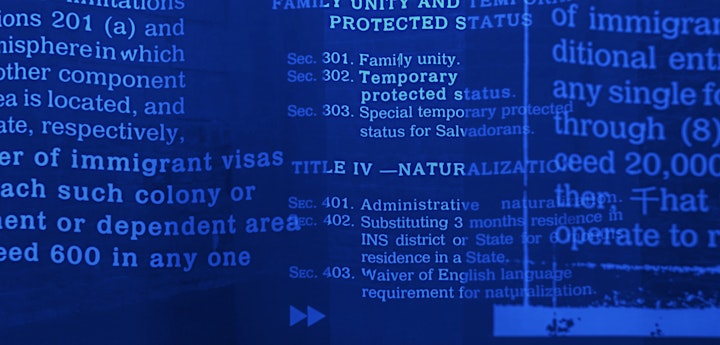 Image: CHIRON, installation, 2018, single-channel 4K video, 18:13 min and 26 translucent banners, 114 x 460 cm. Exhibition view: New Museum, New York. Photo: Maris Hutchinson / EPW Studio. Copyright, Adelita Husni-Bey.