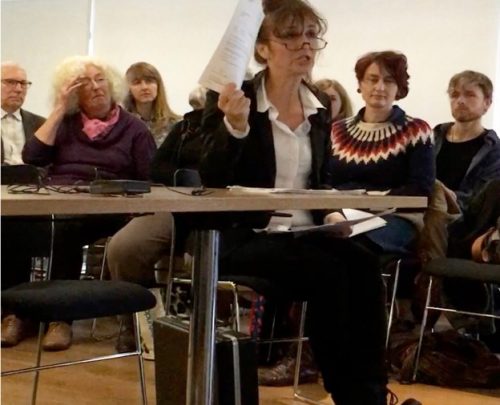 Live Art Intervention/s
Margarita X: A case study
In 2011 Janina Moninska embarked on arts-practice research to investigate Live Art's capacity to deal with being a refugee in the 21st century, and to intervene in refugee and asylum policy. One of the outcomes of this research is a live art performance based around a Home Office interview of Margarita X, combining live performance and video to reveal the complex relationship between individual cases of asylum and refugee law.
You are cordially invited to attend the Home Office interview of Margarita X.
This will take place on 14th September 2.30pm.
Please arrive promptly.
A Roundtable Discussion
Artist Jack Tan and Live Artist Janina Moninska: starting a conversation on law and art as resistance
Time: 4pm
JT: Resistance (as opposed to the utopian idea of revolution) is an excellent thing to consider in relation to Play as a powerful and very useful methodology of resistance. Play to me is heterogeneous and unpindownable, compared to Work which is nowadays easily extracted as labour for neoliberal and patriarchal purposes. Michel de Certeau talks about 'tactics' too almost as a form of play, mischief or trickery.
JM: Yes this would be an interesting topic of discussion, particularly in the way the law withdraws or rather creates the position of the stateless. The link between the legal rights, or lack of, between animals and humans, is a most interesting topic.
JT: You have also mentioned 'bare life' before. And I am interested in the idea of resistance from the margins, indigenous and undercommons, from the space of the Other or from the subaltern.
JM: My practice started by engaging with the bare life of the asylum seeker and refugee as created by the apparatus of law in the UK, but for my last series of interventions I facilitated the recreation of some legal hearings by Bedouins in the West Bank, who are using the law from their position of bare life to resist their forced eviction.
……….You are invited to participate in this on going conversation. We welcome people who would like to share their own personal experiences, both as artists and non-artists.
————————————
Tickets
Janina Moninska
Janina Moninska originally trained as an actor at E15 acting school, London, and has worked in the UK and The Netherlands as actor, director, workshop facilitator and teacher.   After completing an MA in Women's Studies at The University of Sussex she developed a Live Art practice, and in 2007, began interrogating her fathers' history as a Post-WW 2 refugee and collaborating with refugees in London.  Janina is currently a PhD candidate at The University of Brighton, undertaking practice-led research on Live Art as Political Intervention: Bare Life, Refugees and The Law. She has created performative interventions based on legal hearings in both the UK and The West Bank. Her research critically examines Live Art as a strategy for achieving a reconfiguration of the seeable and the hearable through a confrontation with received notions of identity, citizenship, belonging and entitlement via immersive performances drawing on Agamben's condition of Bare Life.
Jack Tan
Jack uses law, social norms and customs as a way of making art. He creates performances, performatives, sculpture, video and participatory projects that highlight the rules that guide human behaviour. Jack trained as a lawyer and worked in civil rights NGOs before becoming an artist. Recent projects include Karaoke Court (2014-ongoing) a singing dispute resolution process, Four Legs Good (2018) a revival of the medieval animal trials for Compass Festival Leeds and V&A London;  his Singapore Biennale presentation Voices From The Courts examining the vocality of the State Courts of Singapore (2016), Law's Imagination (2016) a curatorial residency at arebyte exploring legal aesthetics, his solo exhibition How to do things with rules (2015) at the ICA Singapore, and Closure (2012), a year-long residency and exhibition at the UK Department for Health looking at the liquidation of their social work quango. Jack was the 2017/18 inaugural Art & Politics Fellow at the Dept of Politics and International Relations, Goldsmiths College, and has also taught sculpture at the Royal College of Art and University of Brighton. Jack is also a board member of the Scottish Sculpture Workshop.